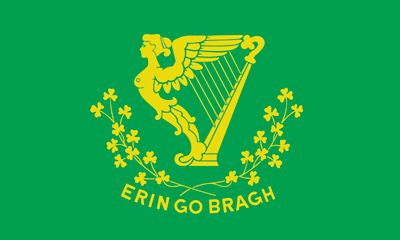 Before I start, I want to wish my father Michael a very happy

60th birthday

today, and to anyone reading, please do me the honor of wishing my Pops a happy one. He was a great man, who like many of us, suffered more than his fair share but still held his head high in the face of adversity. Through trials and tribulations, he always loved me and I knew it. Whatever our fate after mortality, I hope that at the very

least

, he's in peace. Much deserved peace.
You will always live on in my heart, Dad. I will do my very best to honor you and live the life you were never able to live. I dedicate my degree to you - something I know you'd be so proud of. My Irish eyes

always

smile at the memory of you.


I love you, Papa. I love you...
~~~~~~~~~~~~~~~~~~~~~~~~~~~~~~~~~~~~~~~~~~~~~~~~~~~~~~~~~~~~~~~~~~~~~
Now on to gayer events! Today, as you all know, is none other than
St. Paddy's Day
! A day when we Irish get to be vocal about the many things we have accomplished as a people. Not only those in Ireland today, but those of us here in the US and of course,
of course
our ancestors. Irish immigrants. More than 12% (just over 36 million) of the United States population can trace their ancestry back to Ireland. A great deal of the hard work it took to make America the country it is today was done on the backs of Irish immigrants in work such as canal building (Erie being the most famous), bridge building (Golden Gate again being the most famous example), railroad laying (the first transcontinental railroad prior to WWI), servitude, lumber work, civil construction, and so much more. Despite their hard work, it largely went unappreciated and Irish immigrants were discriminated against and harsh stereotypes were cast upon them, many of which I still hear today. Even though the Irish have been primarily Catholic since before our recent memories will allow, they were originally a
Pagan
peoples, as were most of the Western Europeans before the
Crusades
.
I raise my glass to my Irish family, to my Irish ancestors, all Irish peoples of days gone by of today and of tomorrow...